Education in Zambia
We worked on a three-year project in Zambia to help improve the learning opportunities for children with disabilities. Working with the Cheshire Homes Society of Zambia, we worked to address the barriers to education that children with disabilities faced when accessing school.
In Zambia, children and adults with disabilities are often excluded from mainstream education. And many children with disabilities drop out of school before they reach secondary education.
This can be down to a number of factors, including poverty, lack of understanding about disability and lack of inclusive education within schools. As such, children with disabilities can be the last to be enrolled and often the first to drop out.
We worked with 30 primary schools in the Eastern Province of Zambia from 2018-2021 in five districts: Nyimba, Petauke, Sinda, Katete and Chipata.
The project in numbers
758 children with disabilities enrolled in schools.
118 children requiring assistive devices were provided with them.
Formation of 30 Parent Support Groups (PSGs).
Awareness activities reached over 107,000 people within project districts.
Infrastructure adapted in all 10 model schools and an additional 7 schools picked up the initiatives themselves.
415 teachers trained in inclusive education in three training phases.
30 child-to-child clubs established, one in each school.
31 Trainer of Trainers (TOTs) recruited to provide ongoing refresher trainings to teachers to ensure sustainability.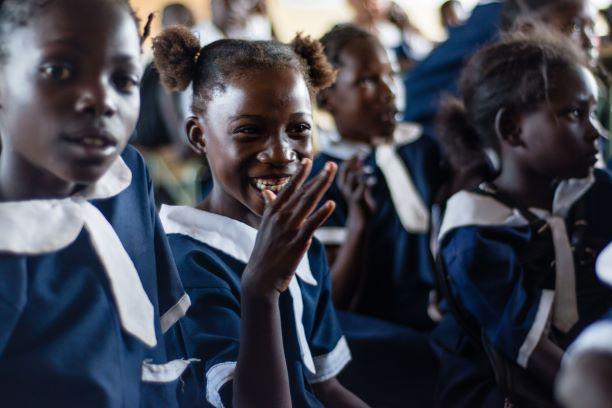 Our Inclusive Education Model
We used our Inclusive Education Model to improve inclusion within schools and communities. We wanted to create inclusive school environments where children can learn together. And teachers can recognise and respond to diverse needs of students.
The project worked to create environments that accommodate different learning styles and ensure quality education for all.
There were many aspects to the project:
Identification, enrolment, retention and learning outcomes
We helped to improve the identification, enrolment, retention and learning outcomes for children with disabilities. We achieved our target of enrolling 758 children with disabilities into school.
Parents reported that their children were learning effectively and performing well at school once enrolled.
Working with communities
Communities actively participated in the project and showed their commitment with community leaders and volunteers disseminating information. Community volunteers who live and work within the project communities were also central to the project.
They received training and bicycles to help with community outreach. They acted as a bridge between families, village leaders and schools. Community leaders also helped identify children with disabilities in their villages and supported parents to enrol and ensure regular attendance at school.
Communities also contributed towards the construction materials for infrastructural improvements in schools to make them more accessible.
Parent Support Groups
We set up 30 Parent Support Groups (PSGs) for parents of children with disabilities to support each other and discuss inclusion. In partnership with the Ministry of Community Development the groups also received support to establish Village Banking and Saving Groups. This helped parents support their children in school.
Raising awareness
We also worked with families and communities to raise awareness about disability rights and why inclusive education is so important for children with disabilities. Awareness and sensitization on disability rights was also key to mitigating child abuse in communities.
The project conducted regular sensitization on the rights of disabled children. This included community chiefs, chief councils, headmen, church leaders and parents. The project supported strengthening of systems to handle sexual abuse, bullying and other child protection violations at school and communities.
Challenging harmful gender stereotypes
By working closely with the community, we improved people's understanding and attitudes towards disability. We also helped challenge harmful gender stereotypes that could discourage girls with disabilities from attending school. Through awareness raising activities there was an increased understanding that girls and boys with disabilities should have equal access to education.
Media
To get messages out more widely, the project teams utilised radio, television and media. These media events publicised information about disability awareness, inclusive education, teacher training, health assessments and distribution of assistive devices.
Partnerships
The project worked in partnership with schools, local authorities and the local Ministry of General Education (MoGE). Together we were able to adapt 17 schools to be more accessible. This included constructing ramps, walkways and accessible toilets.
Child-to-child clubs
30 child-to-child clubs were set up to promote togetherness and foster inclusive environments for friendships to develop between children with and without disabilities. In turn, this promoted the importance of inclusion within the wider communities.
Improving inclusive education policies
We worked with the government, Zambia Agency for People with Disabilities (ZAPD), OPDs, and other NGOs and Civil Society Organisations to improve inclusive education policies.
There is still work to be done to ensure more schools are implementing the inclusive education policy. But the project supported schools to develop guidelines from the policy as a first step. The MoGE also deployed teachers who could teach sign language and braille into schools to help implement the inclusive education.
Support during the pandemic
We also worked to continue supporting children with disabilities during the Covid-19 pandemic when they were out of school. And we supported them to return to school once restrictions eased.
We also identified activities that were safe to continue during the pandemic, adhering to restrictions and guidance. This included continuation school infrastructure adaptations, teacher training, procurement and distribution of assistive devices.